SUSAN BAKER
DIRECTOR OF FOOD SERVICE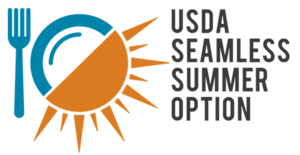 Jenkins Independent School District will be participating in the Seamless Summer Option of National School Lunch Program and the School Breakfast Program. As part of this program, Jenkins Middle High School and Burdine Elementary will offer healthy meals every school day at NO COST to all enrolled students and children age 18 and younger for school year 2021/2022. Students and all community children age 18 and younger will be able to participate in these meal programs without having to pay a fee.
For more information, you may call Susan Baker, Director of Food Services at 606-832-2182 or e-mail at susan.baker@jenkins.kyschools.us
This institution is an equal opportunity provider.
The Jenkins Independent School District participates in the National School Lunch & Breakfast Programs and operates under the Community Eligibility Provision, where every student eats free.
Burdine Elementary has been awarded a Fresh Fruit and Vegetable Program (FFVP)
USDA grant. The grant is administered by USDA and the Division of School and Community Nutrition, KDE and coordinated by Jenkins Independent School District Child Nutrition Services.
A fresh fruit or vegetable snack will be provided for all students at least three days each week dependent upon availability of fruits and vegetables and the duration of the grant monies.
The Goal of the FFVP is to:
Create healthier school environments by providing healthier food choices

Expand the variety of fruits and vegetables children experience

Increase children's fruit and vegetable consumption

Make a difference in children's diets to impact their present and future health
Snacks will be eaten during the afternoon. Children will be encouraged to try the fruit or vegetable snack each day, but they may opt to not participate if they do not like or cannot eat the fruit or vegetable that day.
Please encourage your child to participate in the snack program to further emphasize the importance of good nutrition. If you have any questions about this program, please contact your school principal or Child Nutrition Cafeteria manager.
This institution is an equal opportunity provider