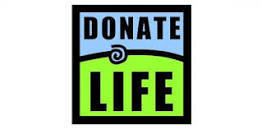 DONATE LIFE
Stacy Collier
Tuesday, October 15, 2019
The JHS Health and Fitness Club are proud to announce their participation in the 2019 Donate Life Kentucky High School Challenge! This project is important not only to the state of Kentucky - but also to the rest of the world!
There are thousands of people waiting on a lifesaving transplant, and this is where we come in.
This project is in honor of those who have given the Gift of Life, received the Gift of Life and others awaiting a lifesaving transplant.
Please register at our website (see below) - Jenkins High School will receive credit for your registry in the challenge!
https://registerme.org/campaign/jenkins
Students 15 and older can register. There will be a red box pop for those under 18 that says along the lines of "come back when you're 18," but that's okay and means it worked!
Students do not need parental permission to register, as parents have the final say so on donation until the student is of legal age. We do encourage students to talk to their parents about their decision to register and educate them on donation as well.
Students ages 18 and over, staff and community members are encouraged to consider registering today!
For more information about donating you can go to the website https://www.donatelife.net/